Brian Reeves of the Sportsmen's Cannery & Smokehouse in Winchester Bay paid his dues as a greenhorn learning to commercial crab.
His greenhorn remembrances are as follows:
Green Education:
Being a green horn the first seven or eight days all I did was learn the best way to complete simple tasks that the more experienced guys knew instinctively. The simplest things would make a huge difference. If you pick up a bait jar with the wrong hand even, that extra action would slow down the operation and hurt production. You could move one foot before another and save a step. Those guys Bert and Royce kept me safe out there and trained me up good, just little things that make a huge difference in keeping the action smooth. After five or six days I began to find my place and we began to work more as a machine than individuals. The seasoned crabbers maybe don't notice how easily they do things after so many years, but bring a greenhorn on board and the difference is pretty obvious.
Dungeness crabbing really beats a person down both physically and mentally. Our sleeping quarters on the Harvester are about two feet wide by the length of your body on the floor. Bert and Royce had seniority and Capt Tyler has his fancy fold down bed behind the captains chair but being the greenhorn I got the floor.
One of the hardest parts of it mentally was that you'd just spent 30 hours out there setting traps and running gear and then a three hour steam back to Charleston. Then 3 more hours to offload everything, so you are feeling good about landing the catch and then you'd have about half an hour to clean the boat, get a shower, and then back out on the water. Normally the weather doesn't allow such a long run of continuous crabbing so this was new to everybody.
The Right Gear:
Learned my lesson that you need the right gear – the right rain jacket and right boots and socks. Just a regular pair of cotton socks didn't work worth a damn. The first time I got to go to England Marine after going out I felt good spending a few hundred bucks on the right gear.
I had a beanie, 4 sweatshirts, and the rain gear on and still felt like a popsicle.  The super freeze gave us 12 days strait crabbing and we never got to go home. We slept on the boat, ate on the boat, showered in the parking lot in Charleston. You could probably smell us all the way into Coos Bay.
One thing that was really weird about crabbing, the first day we went out and they put these gloves on me that everyone uses, and with the salt water or sweating I got 'crab claw' — your hands feel like they're on fire and your fingers won't bend any more. They felt like they burned. After a day or two of that they just went away, but it was tough going there for a while. Over a period of catching 90,000 crab in a matter of 10 days I think I measured and handled 50,000 of those suckers personally.
–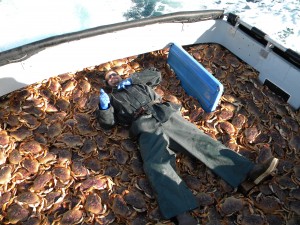 A day on the F/V Harvester:
A week in we just got done unloading and headed back to the crabbing grounds so we all got two hours of bad sleep and got to the grounds at 1:00 in the morning, got suited up and on deck to start running gear.. It was COLD  but we got into the routine. The next thing you know the sun comes up — seems like when the sun first comes up the it always feels the coldest. So the sun came up and we kept running gear, and running gear and then suddenly the sun was going down and we kept going till 10:00 that night, got full and went back in for offloading and then went back out and did it again.
It was hardest work by far I've ever done in my life, as far as physical labor and sleep deprivation and mental awareness goes.
Q? Here you are, one of the relatively new owners of the Sportsmen's Cannery . What made you decide to get on that boat for this season?
Being new in the industry, I wanted to get a better conception of what it actually takes to harvest crab that we've been selling for the past 2 years. When I buy crab at the Cannery now I know a little about how much work and struggle it is get get those suckers in. And being in a job where you can make some fast money didn't hurt either. And I had the same feeling that those old boys had gold mining in the 1800′s – we had crab fever!
I was so lucky to be on The Harvester with Capt Tyler. I was lucky enough to get on with a hot rod boat that has their [crap] together so I could sit back and learn. He knew exactly what he was doing, knew exactly where he was going and I could rely on his experience. If he told us what to do we never had to worry about what his plan was – we knew it was good. His 34 foot boat had higher numbers than 60 to 80 foot boats. I will say that my wife not being used to the lifestyle of a commercial fisherman made it tough on our family life because it was such a huge change.
Women that have men who do this should respect themselves a lot. They deal with being separated for days on end with constant worry, wondering if their man will ever come back. It was tough for me to come home for a couple hours, take a shower and play with the kid for a few minutes and I could see in her eyes she wasn't doing very good. 'I didn't marry a commercial fisherman' she said, but she got through it. You can make a ton of money in five days but the strain on your relationship is a hell of a deal.
The Captain was in charge of moral. He'd listen to our bitching, make us food, keep us going throughout the season. We weren't just a number to him and we couldn't have been pulling record loads like that without a great leader.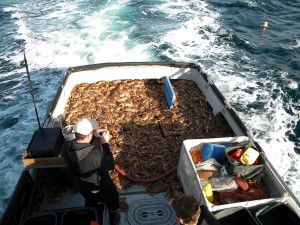 Conclusion:
I wouldn't trade my experience for any other boat in the harbor, even though our living conditions might have been pretty basic compared to the million dollar boats with personal chefs and sauna's that we've heard about but never saw. Sleeping bags on the floor were good enough.
Capt. Tyler 'I don't know if Brian knew what he was signing on for this season but he nutted up and did a good job in some rough conditions'
– Brian Reeves, Z McDermott & the Harvester